Deli Display Case Lighting
Promolux Low Radiation Balanced Spectrum Lighting is Profitable and Food Safe for the Retail Food Industry. For the highest quality illumination and food safety, the best choice for your deli display cases is Promolux food lamps.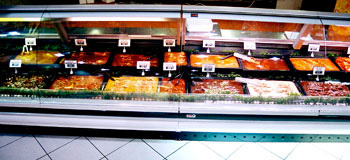 Promolux balanced spectrum lamps bring optimal display and food safe lighting to your deli display cases. True, spectacular color definition will win new loyal and satisfied customers and translate into higher sales and great profit retention.
Don't let your deli merchandiser display cabinets become the weak link in your merchandising program by lighting with inferior lamps that have hot spots and initiate photo oxidation.
When it is time to bring your fresh deli foods out for sale, display them under Promolux Safe Spectrum lighting.
---
To order Promolux bulbs for your deli counters contact us at (Toll Free) 1-800-519-1222. Promolux has over 20 years of experience in specialty retail lighting for the display of fresh foods in retail stores.
---
Install Promolux lighting in your deli meat display cases and get:
simply superior merchandising appeal
food safe lighting for deli/meat/cheese displays
profitability - more attractive displays with improved product integrity

Delicatessen meats, cheeses and salads must be kept chilled, packed and in the dark through many stages of shipping and holding before reaching their destined retail displays for consumer selection. Sandwiches and prepared mixtures with egg and salad dressings can begin to degrade very quickly when displayed in less than optimal conditions.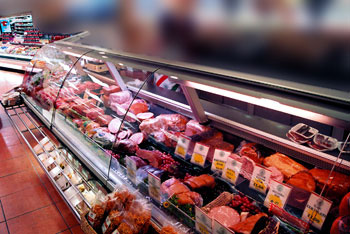 While deli meats sit in refrigerated display coolers, they are vulnerable to discoloration and lipid oxidation induced by exposure to light.
Particularly damaging is the radiation produced by everyday lamps that emit strong ultraviolet rays and intense yellow and green portions of the visible spectrum.
Field tests have shown that lipid oxidization damages the flavor of meat in only a few hours sitting under lights. Exposed surfaces of deli foods become discolored and dried out quickly once they are sliced and displayed for sale.
Poor quality commercial lighting products with a harsh yellow-green color balance can damage sales by diminishing the natural appearance of fresh foods and inducing photo oxidation. Avoid compromising food safety when hot spots from everyday lighting products result in discoloration and unwanted surface warming of your deli meats.
To keep your deli display cases profitable, install Promolux lamps -- a simple change in lighting will reduce UV radiation and provide you with spectacular true color definition for all your fresh deli items.
Promolux utilizes Safe Spectrum technology which is based on years of field trials and research by renowned international food science laboratories and universities world-wide.
Select Promolux lamps for deli display lighting that maximizes appearance and minimizes surface damage to fresh foods.
---
When Deli Display Lighting Initiates Lipid Oxidation and Degrades Products
Deli products displayed under strong generic lights will always suffer some damage from the effects of heat and light radiation.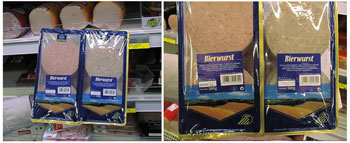 To prevent spoilage, sliced meats and deli salads must be kept at optimal temperatures right up to the time the customer takes them home.
Specialty cheeses and delicate sliced meats must be protected from strong lighting that accelerates tanning and the drying out of deli items.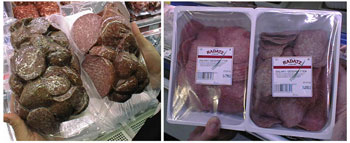 High levels of photo oxidation mean lost sales and reduced profits. Extending the shelf life and achieving superior visual presention of fresh foods are both critical issues for retailers who rely upon top quality fresh and refrigerated food displays to attract retail sales.
The right deli display case lighting accentuates the natural colors and flavors of deli meats and deli salads, and will extend the shelf life of deli products by eliminating shrinkage and spoilage. Installing Promolux will only improve your deli meat case lighting saving you time and money.
Reduce Delicatessen Waste
Most commonly used deli display case lighting emits heat and ultraviolet (UV) radiation, which can damage deli meats and deli salads.
Presliced ham is particularly susceptible to dehydration. When roasted deli meat and processed deli meat are sliced on demand, outside slices that have dried out must be thrown away, which can become costly to the delicatessen.
Salads are also vulnerable to dehydration, particularly salads and desserts made with jello. Marinated meats and ready-to-cook meals quickly become dry and look unappealing under hot deli spotlights. In fact, the damage to deli meats, deli salads, and home meal replacements can be so rapid that delicatessen managers turn off their deli display case lighting completely.
---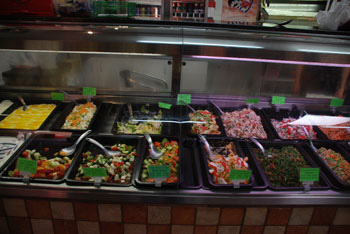 In addition to dehydration, heat and UV radiation from deli display case lighting can also cause food to spoil.
Processed deli meat which often contains herbs such as oregano and deli roasts that are coated with pepper or other herbs, are particularly vulnerable because herbs are photosensitive. When exposed to light, the chlorophyll contained in herbs absorbs light radiation, which initiates the decomposition process in the herbs and associated meat product.
Salads made with ingredients that are susceptible to food borne pathogens such as mayonnaise and seafood can cause food poisoning if the salads are heated to unsafe temperatures by the wrong display lighting. Install Promolux Safe Spectrum lighting for optimal appearance and reduced heat and UV radiation.
Maximize Visual Appeal in Deli Displays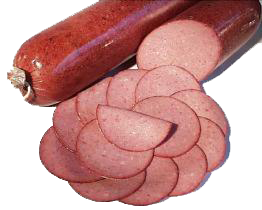 Color is always an important factor in making food look appealing and appetizing. The fluorescent bulbs normally used in supermarket display cases are designed to be strong in the green and yellow portions of the visible spectrum to give a bright light.
However, under this lighting, roast beef can look dark brown, and any reddish tones are not visible. Promolux true balanced spectrum lamps show fresh food displays to their best advantage.
Why install Promolux in Your Deli Display Cases?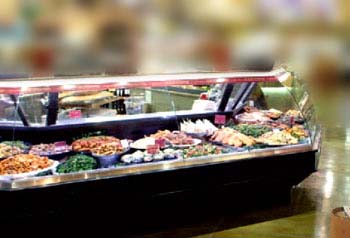 Supermarkets work hard to win customers and gain a competitive edge and must invest heavily in equipment, store design, merchandising, labor, electric power and advertising. By comparison, the cost of investing in Promolux lamps is proportionately insignificant.
These specialty deli display case lamps are the perfect lighting choice for the delicatessen industry. Supermarkets using Promolux find that sales increase and losses are reduced in deli departments, frequently in less than 90 days. You can expect an excellent return on your investment with Promolux.
Promolux true full spectrum lamps alleviate deli display case lighting problems. Natural colors remain true with Promolux retail deli lamps, which emit lower levels of ultraviolet radiation and heat than other commercial lighting commonly found in delicatessens.
Contact us today by phone or email to start your trial of Promolux lights for your deli shop.

Toll free North America 1-800-519-1222
International Calls (250) 743-1222